The horrible
health effects
of bad
Air Quality
The need for a high level of Air Quality, indoors (IAQ) and outdoors isn't new and it is certainly justified. There are multiple researches showing the extreme effect on life quality and even life expectancy when you have to live in polluted environments.
This scientific study as published by the Ecological Indicators  journal reports that just an "on average, an increase in pollution particles in the air of 10 micrograms per cubic meter cuts victims' life expectancy by 9-11 years"
Another scientific study by the World Health Organization reports that "7 million premature deaths annually linked to air pollution" and that there is a strong link to diseases such as cancer,  strokes, heart disease and others.
Take action and protect your health now!
The big question is: Can you really afford to lose few decades of your life? Or should you take action right now? Using our patented nose filters is the among the most immediate, affordable and effective measures you can take to decrease your daily exposure to harmful pollutants for up to 99.9%. The laboratory studies are proving out nose filters effectiveness.
To help your quest for optimal air quality, our team had complied the most detailed guides available to identify harmful pollutants, and protect yourself from them!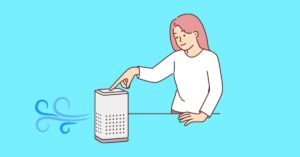 Introduction to Air Purifiers In recent times, air quality has become a pressing concern, not just in industrial regions but also in residential areas worldwide. This surge in air pollution has led to a greater awareness of the importance of breathing clean air and the role that air purifiers can play in achieving this. Air
Read More »